Helping you love your house all over again…

All the art of living lies in a fine mingling of letting go and holding on.
henry Ellis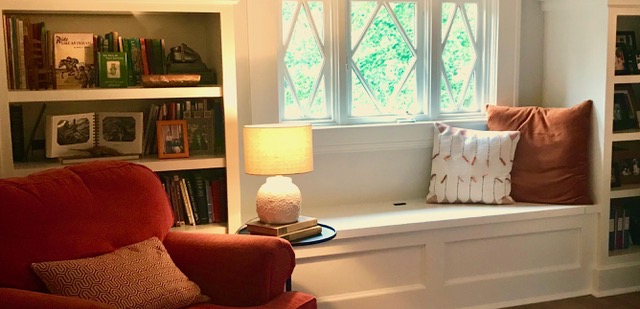 What does home mean to you?
Familiarity? Comfort? Your reading lamp by your favorite chair? A pot of soup on the stove? Family and friends around the kitchen table? Home— the place where we rest well, spend time with people we love, where we live, laugh, play. It's the place waiting for us at the end of the day, always there to welcome us in.
At best, home is all of those things. But let's face it… our homes are not always at their best. There are a lot of demands on our time—work, travel, exercise, meals, laundry, friends, family. Sometimes there's just not enough time to be thoughtful and deliberate about what comes into our space and where it goes… that's when things can spiral out of control.
Our homes can support and enable our best life,
But too much clutter means we spend too much time in search of… the car keys, our umbrella, the dog leash, our kid's other shoe… you name it. It's hard to stay organized in a house crammed with stuff. If every drawer, closet, surface, nook and cranny is overflowing, life becomes harder than it has to be. If things are feeling a bit chaotic at your house, I can help.
To make living itself an art, that is the goal.
Henry Miller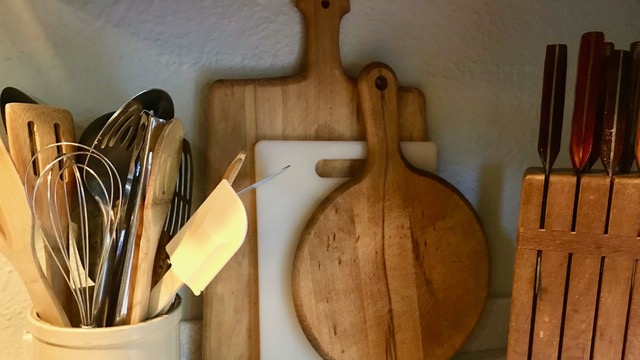 Decluttering vs. Organizing…
The first step is always the same: question everything. The goal is to be intentional about what we have in our homes. Which is the very opposite of what tends to happen. Life's flotsam and jetsam accumulate year by year. Kids' projects, games and toys, books, magazines, photos and papers, old electronics and charger cords, furniture and keepsakes passed down from family, clothes you used to love but haven't worn in years. Before you know it, you're being crowded out of your home by things that came in and never left.

What to do?
We long for order…I'll get organized, we think to ourselves, tempted by the seductive idea that if we just had the right storage bins, the correct organizational system, we could get it all under control.
We run to the big box store—buy a bunch of plastic tubs, get them home, look at the piles, feel overwhelmed. There's just too much stuff! Procrastination ensues. All those boxes and bins and drawer dividers, and we still haven't solved the problem.
It's time to declutter.
The process of sorting will show you what you actually have, so you can make informed choices about what to keep—maybe everything, but probably not. Who really needs seven pairs of scissors? (Six of which you bought when you couldn't find a pair of scissors!)
You don't have to do it alone.
This is where working with someone like me can be useful. It's like making an appointment with that part of yourself that really wants to get this done. Someone who doesn't take over, but offers you guidance, supports your efforts, talks through decisions. Working together makes the work go faster so you can stay on track and reach your goals.
Everything has its place.
We'll sort everything into piles marked Keep, Donate, Toss. The fun part comes next— putting everything back in an intentional way.
I'll ask questions like, How often do you use this? When do you need it? Who else uses it? Suddenly it becomes easy to see what goes in that drawer by the sink, and what lives on the top shelf. This is the stage where you may see that you do need some pantry baskets, or drawer dividers, or storage bins, but often we can use what you already have.
If you decide to purchase some kind of storage containers, then you'll do so with the benefit of a plan, you'll know what size to get and how many you need. Or I can purchase storage solutions you want and bring them to you.
Storage: In plain sight…
Those pottery bowls I love and use everyday? I keep them out where I can see them and easily reach them. Things I use less often or don't want to look at all the time are stored in drawers and behind closed doors. This leaves my kitchen surfaces mostly open and free, providing a clear work space and a feeling of spaciousness and calm. An uncluttered countertop is a beautiful thing!
Or behind closed doors?
A closet, the top shelf in the pantry, a trunk that doubles as a coffee table, or an old wardrobe, like this one, fitted with shelves, can store linens or dishes we pull out for entertaining, or seasonal use. I can help you see new storage possibilities in your house too.
And on the subject of storage
and practical, useful, everyday things…
You don't have to chose between form and function! Baskets, jars, wooden boxes, pottery bowls and jugs… simple containers made of natural materials are both functional and beautiful. It's one of the secrets to a well organized, visually pleasing home.
What are your goals?
Do you want to transform your "junk room" into a comfortable guest room? What to do with all that stuff? Maybe you don't have a problem clearing it out, but you're not sure how to make the room feel more welcoming and attractive.

Do you want to rearrange your kitchen or another room of your house to make it look and function better? Could you use some help deciding what you really need to keep and where you should put it?

Would you like to make your bathroom a nicer place to start the day? So you can get ready quickly because everything you need is right where you need it?
Do you long to live in a home that feels well ordered, peaceful and calm, that better reflects your values, tastes and interests? Do you wish you could just rearrange what you have to make it look better? To look more like you? Do you need a hand picking out a few new accessories or pillows to brighten and freshen things up?
A beautiful, easy to maintain home is … one product of a thoughtfully curated and decluttered life.
Fortin & Quilici, The New Minimalism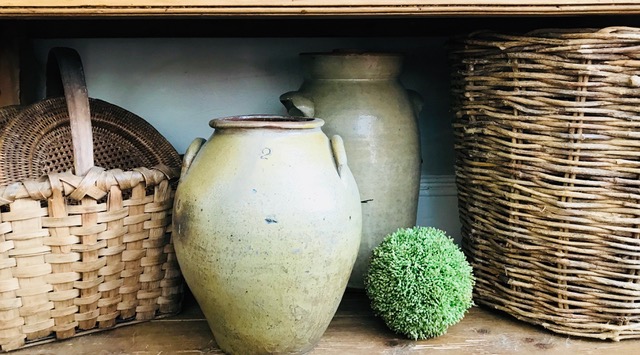 Working with me…
You may be thinking, Well that sounds fine … for someone else. My house is in such a mess I couldn't possibly show it to anyone, much less somebody who is "organized"! No worries—I've seen it before (probably in my own house.) Everybody gets overwhelmed sometimes. I bring no judgement, just a problem solving mind-set and a desire to help. I'd love help you clear out and transform your cluttered space to achieve a sense of calm and control. Never pushy or bossy, I am creative and fun, practical-minded, solution-oriented and motivated to help you accomplish your goals. If you want to feel better about your space, I'd love to help!
Free 1 hour consultation. $40 per hour for decluttering, rearranging services.
Confidentiality and professionalism guaranteed.
References upon request.
Janet Miller
The Artful Arranger, LLC.
janetmiller@artfularranger.com
704-957-8646